10mm Anti-Fake-Hologramm-Streifen Label für Blisterverpackungen
Verpakung:

PP.-Beutel und Hologramm-Verpackungen im Inneren, standard Exportkarton und weiße Verpackung Gürtel außerhalb

Produktivität:

10000000000

Marke:

NIP

Transport:

Ocean,Land,Air

Ort Von Zukunft:

Suzhou

Versorgungsmaterial-Fähigkeit:

1000000/Month
Basisinformation
Modell: YXCP-03
Art: Kleber Aufkleber
Material: HAUSTIER
Printing Type: Offset Printing
Feature: Anti-Fälschung
Verwendung: Kundenspezifischer Aufkleber, Flaschengetränk, Essen, Preisschilder, Versandetiketten, Verpackungsfolie, Medizin
Size: Customized
Thickness: 15, 20 Mciron
Color: Ransparent Or Metalized Silver, Gold, Red, Blue, G
Shape: Square, Circle, Oval, Triangle, Round, Etc
Pattern: Generic Or Csutom Hologram
Other Processing: QR Code,Serial Number, HS Ink, UV Printing, Etc
Characters: Brand Promotion, Anti-counterfeit
Application: Food, Cosmetic, Medicine, Electronics, Etc
Sample: Available For Free
Keyword: Hologram Strip Label
Produktbeschreibung
10mm Anti-Fake-Hologramm-Streifen Label für Blisterverpackung
Funktion der Anti-Fake-Hologramm Aufkleber, Hologramm-Streifen-Label, Anti-Fake-Hologramm-Streifen-label
1. Dicke: 15 Mikron, 20 Mikron
2. es gibt Mark zu registrieren, müssen kompatibel mit Stanz-Maschine.
3. übertragen oder Laminierung Typ, leicht zu paste durch Druck und Hitze erhitzen.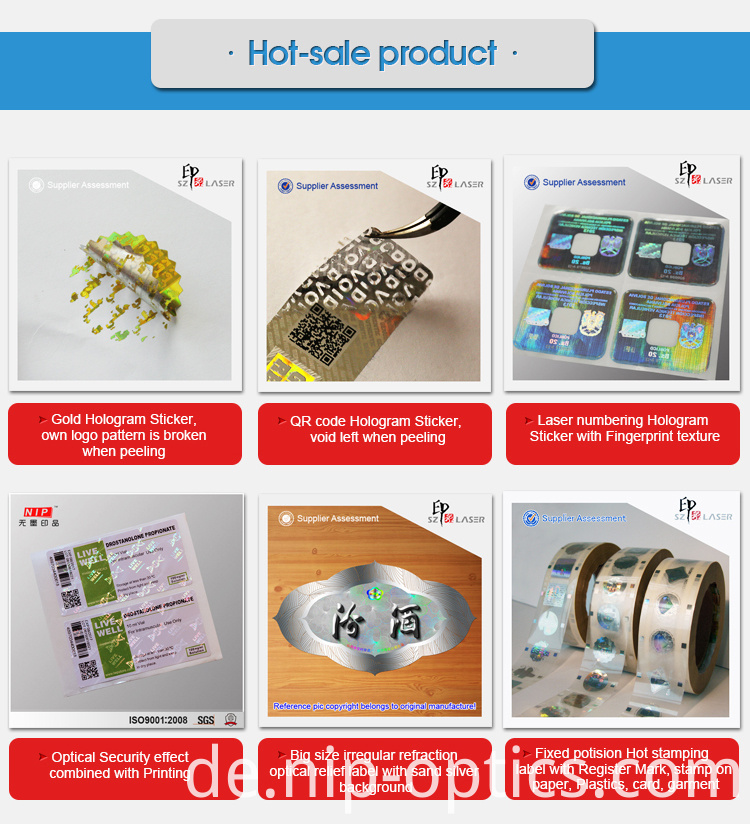 Spezifikation
Material
15/20 micron silver PET
Type
hot stamping, heat transfer
Pattern
Custom logo pattern
Combine with other processing

Serial number, QR code, UV ink printing, etc
Feature

1) Eco-friendly

2) Anti-counterfeit, colorful, brand protection

3) Eye-catching design help you wine the market.

Packaging
In roll, width: 10mm
Bild von Secure Hologramm-Streifen label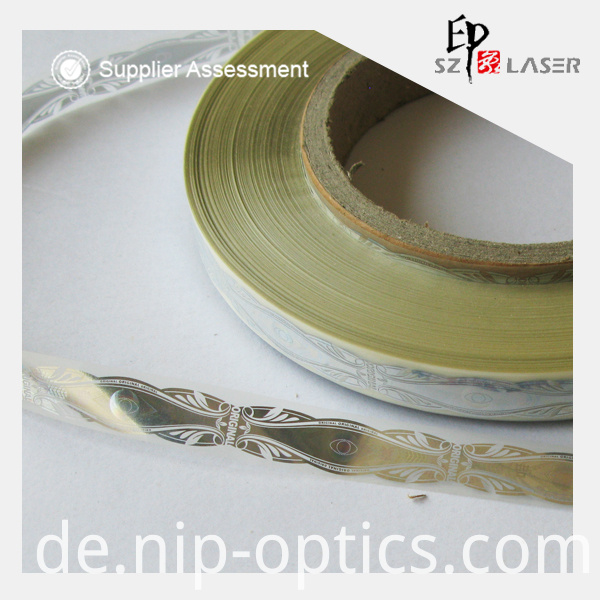 Hot stamping auf Blisterverpackung
Unsere Hologramm-Aufkleber aufgebracht werden, um verschiedene Verpackungen, wie Lebensmittel, Kosmetik, Medizin, Kleidung, Hangtag, etc.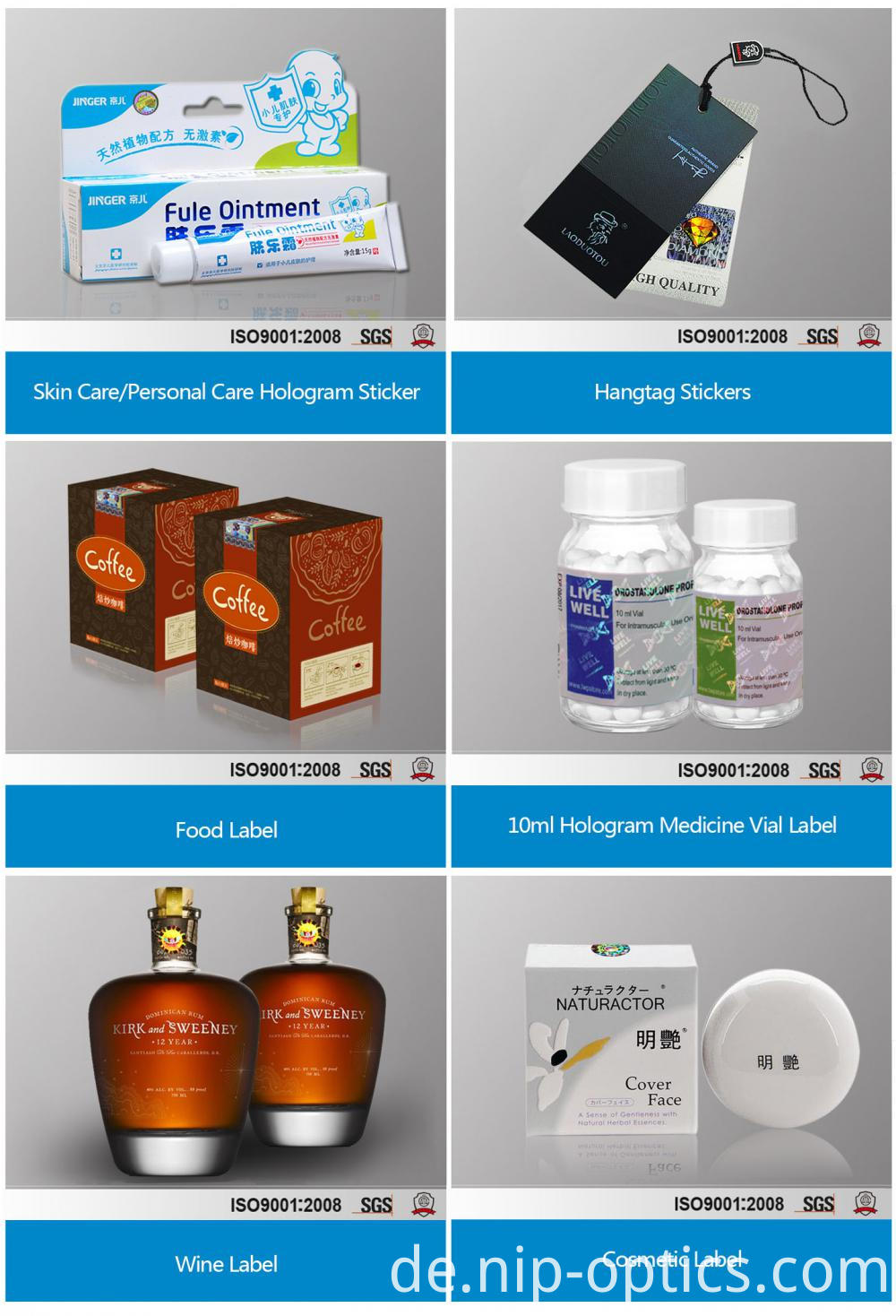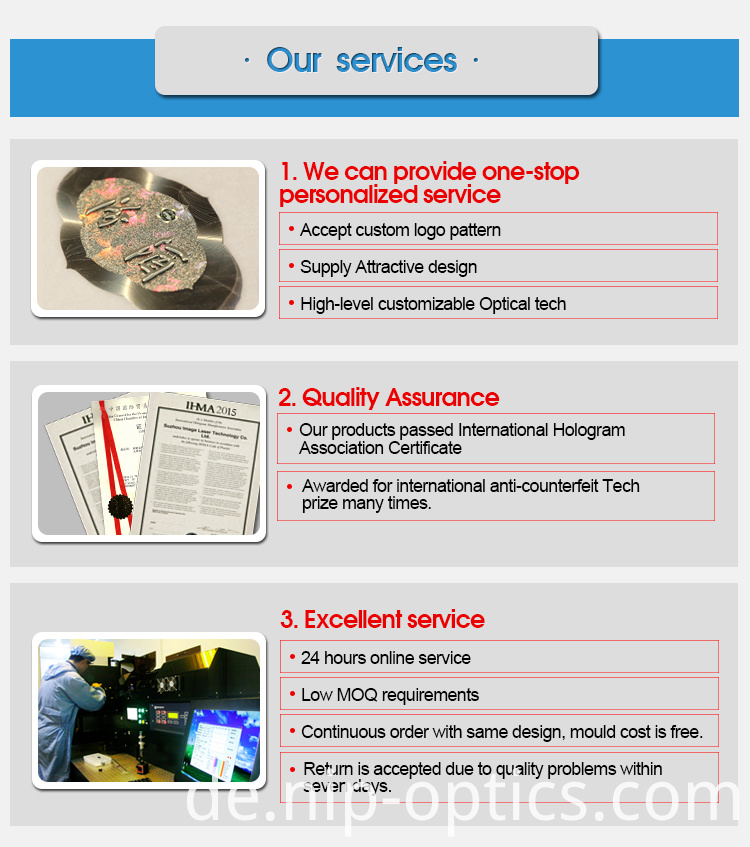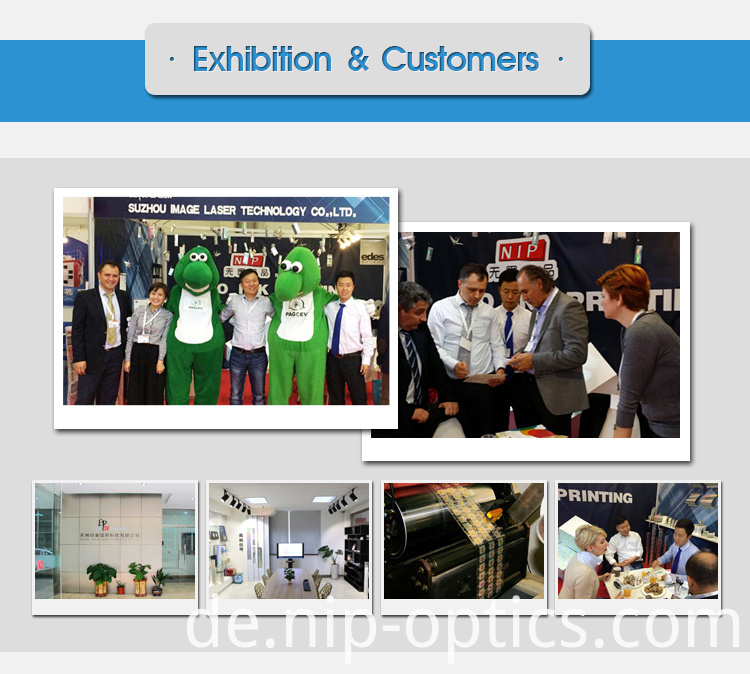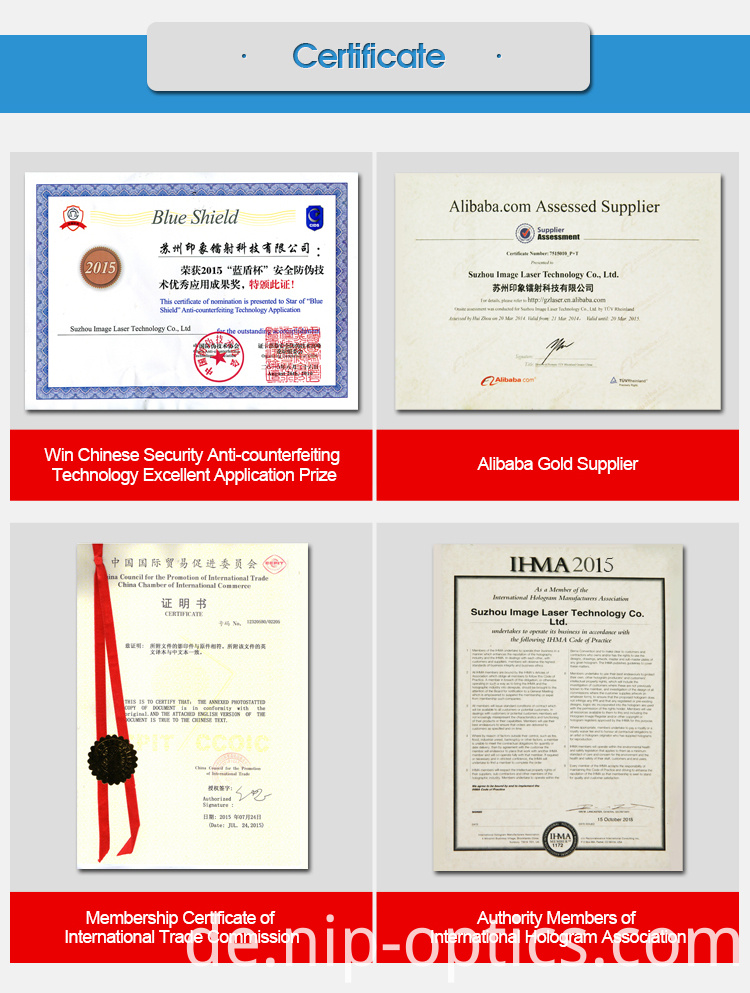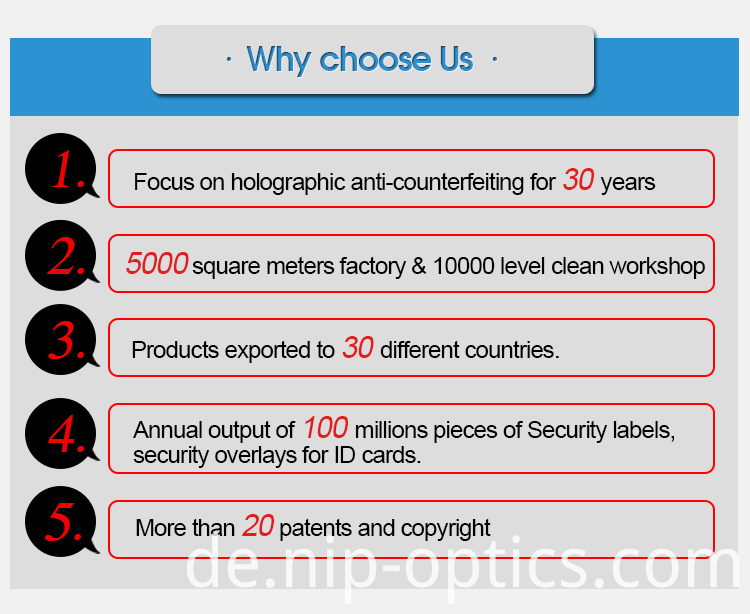 Häufig gestellte Fragen
1. was Ihr Aufkleber Material ist?
In der Regel verwenden wir PET-Material mit 25 oder 30 Mikron dicke, andere Dicke wie 15, 20, 50 µm sind ebenfalls verfügbar.
2. können Sie Anti-Peeling oder manipulieren Hologramm Etiketten?
Ja, machen wir es wie leere, Waben oder Kunden-Logo.
3. jede Form, jede Farbe, können Sie für mich tun?
Bieten wir natürlich individuelle Hologramm-Aufkleber. Rund, Oval, Quadrat, Dreieck, beide sind ok. Transparent, Silber, gold, gelb, etc.
4. ich brauche Hologramm heißen Stempeln Label, bitte geben Sie mir Ihre Preisangabe.
Der Preis richtet sich nach der Hologramm-Größe und Kunstwerk. Bitte senden Sie uns diese Informationen, damit wir beurteilen können und den genauen Preis für Sie.
5. können Sie mir Beispiele Hologramm?
Proben sind vorhanden, wir senden es kostenlos mit Fracht zu sammeln. Geben Sie bitte Ihre express-Konto oder Zahlen Sie uns bitte die Frachtkosten. Wir organisieren die Proben so schnell wie möglich.
7. nutze ich das allgemeine Muster mit meinem Logodruck?
Ja, können wir Ihr Logo auf Hintergrund unsere generischen Musters, wie echt, Sicherheit usw. drucken. Sie können auch hinzufügen, Seriennummer, Barcode, QR-Code, etc.
Willkommen in unser Unternehmen zu besuchen, wenn Sie weitere Informationen, besuchen Sie bitte www.gzlaser-online.cn
Produktgruppe : Hologramm-Aufkleber > Heissprägung Hologramm