Benutzerdefinierte 3D Hologramm Aufkleber Sticker mit sequentiellen Nummer Drucken
Verpakung:

PP.-Beutel und Hologramm-Verpackungen im Inneren, standard Exportkarton und weiße Verpackung Gürtel außerhalb

Produktivität:

10000000000

Marke:

NIP

Transport:

Ocean,Land,Air

Ort Von Zukunft:

Suzhou

Versorgungsmaterial-Fähigkeit:

1000000/Month
Basisinformation
Modell: YXCP-03
Art: Kleber Aufkleber
Material: HAUSTIER
Printing Type: Offset Printing
Feature: Anti-Fälschung, Anti-counterfeit, Brand Promotion
Verwendung: Kundenspezifischer Aufkleber, Flaschengetränk, Preisschilder, Versandetiketten, Verpackungsfolie, Medizin
Size: Customized
Sample: Available For Free
Thickness: 30 Micron
Shape: Square, Circle, Oval, Triangle, Etc.
Color: Transparent, Gold, Silver, Etc
Other Security Features: UV Ink, Serial Number, QR Code
Holo Tech: Hidden Text, Micro Text, Flip-flop
Pattern: Custom Hologram Lgoo
Keyword: Holographic Decals
Produktbeschreibung
Benutzerdefinierte 3D Hologramm Aufkleber Sticker mit sequentiellen Nummer Drucken
Merkmal der benutzerdefinierte 3d Hologramm Aufkleber
1) Tiefe 3d Hologramm

2) glänzend Silber Hologramm Farbe
3) kundenspezifische Hologramm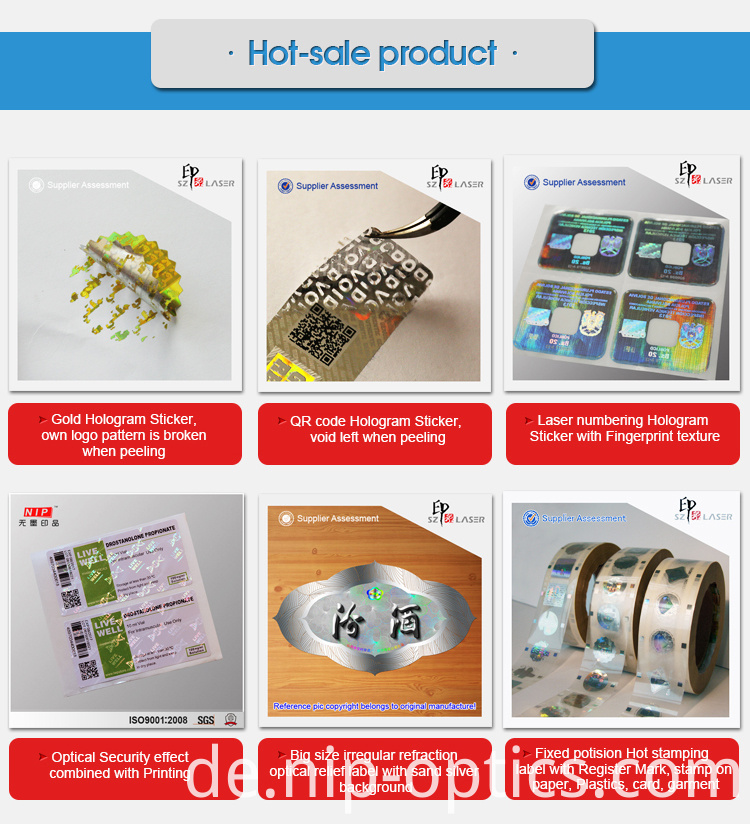 Spezifikation
Item

Custom 3D holographic decals

Material

Usually 30micron PET, 15, 20, 25, 50micron is also available

Structure

Hologram + Pressure Sensitive Adhesive + Silicon Paper

Pattern

10 generic patterns; customized pattern: free design

Color

Transparent or metalized silver, gold, red, blue, green and so on

Size

According to customers' requirements

Shape

Square, circle, oval, triangle, round, etc

Type

3d holographic decals

Production process

Logo etching-----embossing Optical image-coating-----die-cutting-----sheet cut----Package

Combine with other processing

Multi color printing; Serial numbers; QR code; UV ink; HS ink etc security features

Feature

1) Kinetic movement

2) Deep 3D logo, stereo feeling

3) Color change from different angle view

Supply form

in sheet for 3d holographic decals

Packaging

PP bag and hologram packaging boxes inside, standard export carton and white packing belt outside.
Hologramm Aufkleber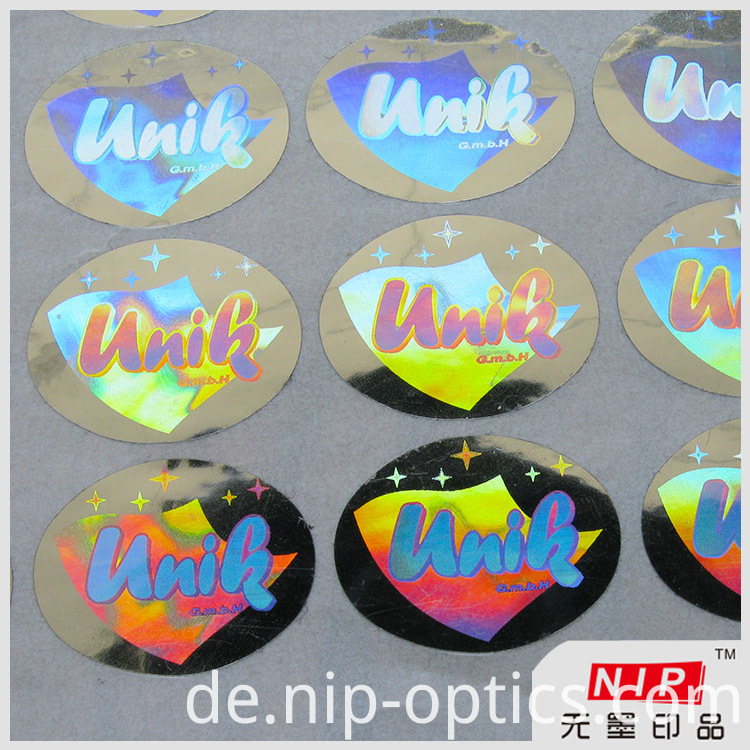 3D Hologramm Aufkleber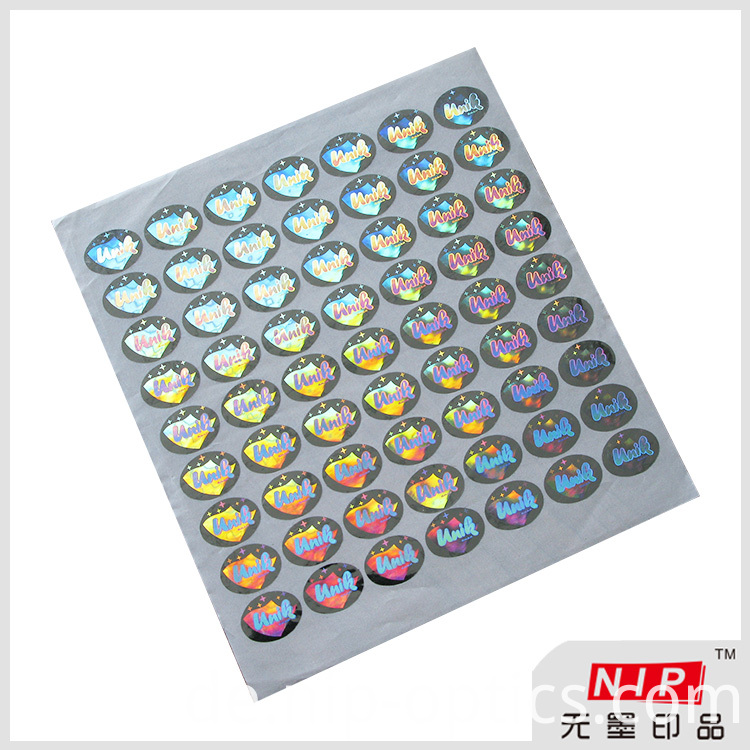 Verschiedene Arten Hologramm-Aufkleber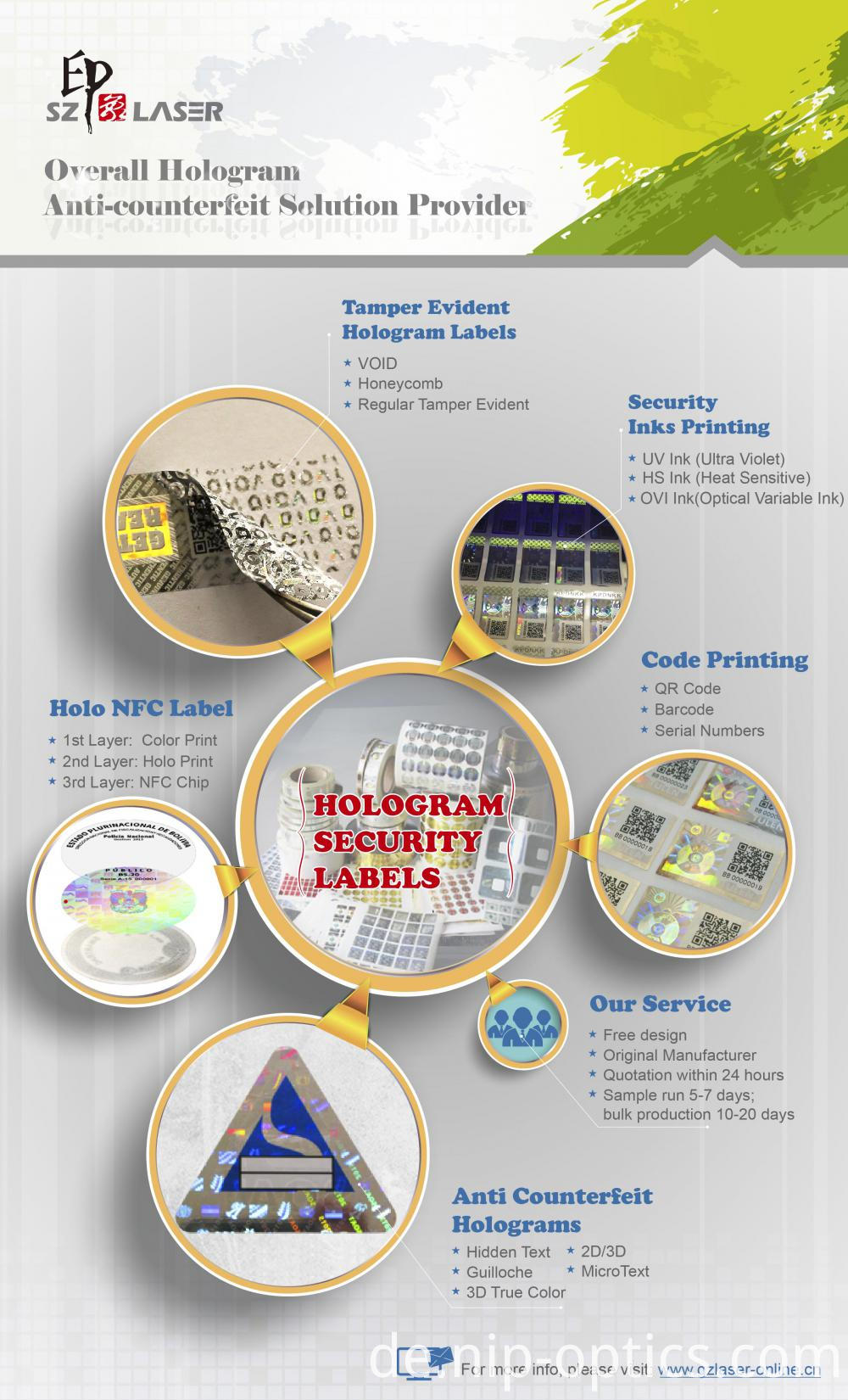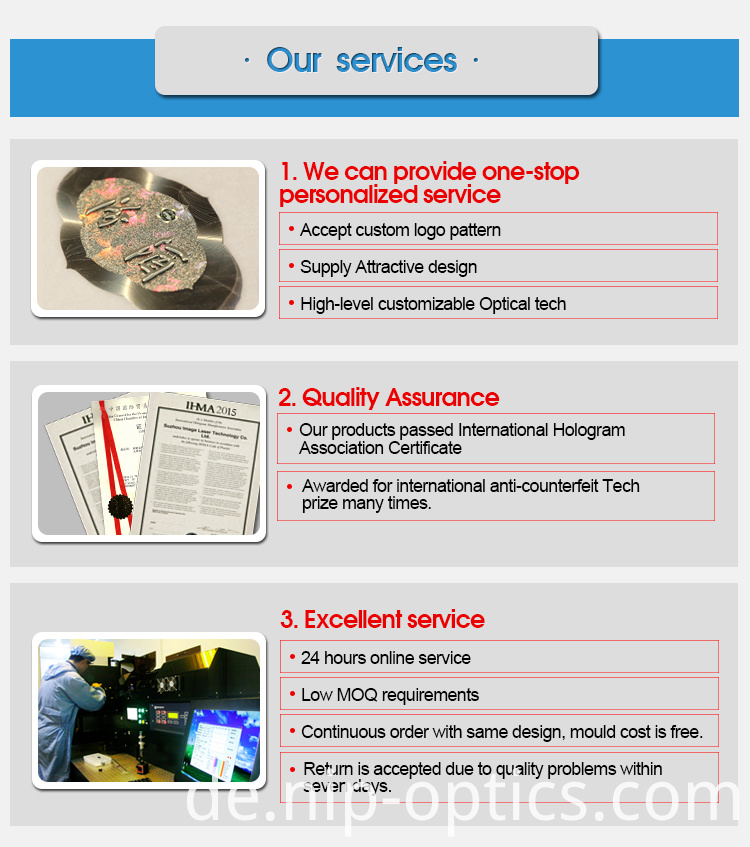 Unsere Vorteile
1. Schwerpunkt holographische Markenpiraterie seit 30 Jahren
2. liefern Gesamtlösung für die Hologramm-Produktionslinien: Dot-Matrix - Galvanoforming--rekombinieren--Prägung--kleben & Beschichtung - Stanzen - Nummerierung--Verpackung etc.
3. 5000 Quadratmeter großen Fabrik & 10000 Ebene sauber Workshop
4. Produkte in 30 verschiedenen Ländern exportiert.
5. besitzen ein starkes und erfahrenes Team in Design, selbst f & e und Produktion
6. liefern alle Arten von Hologramm-AufkleberHologramm-overlay für Ausweise und Bescheinigungen, Aufreißstreifen, Hologramm Umzugskartons usw.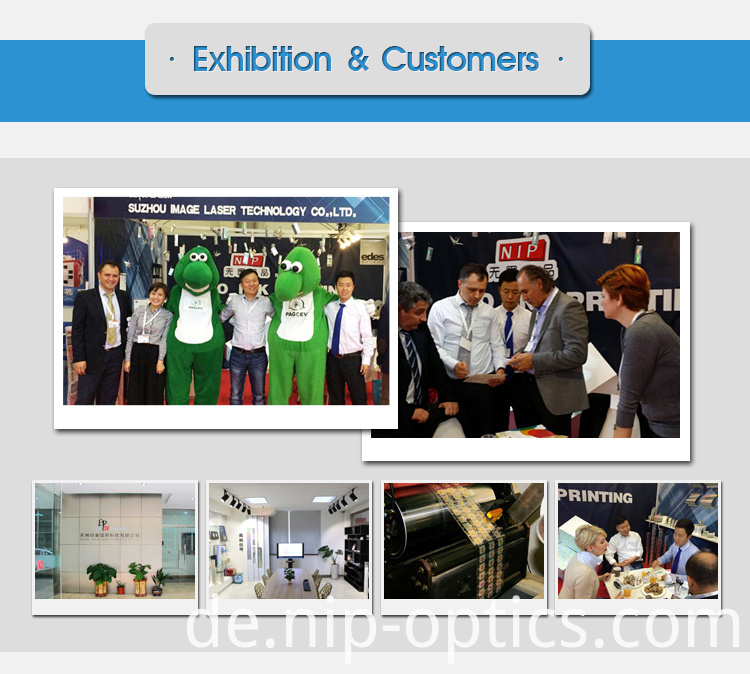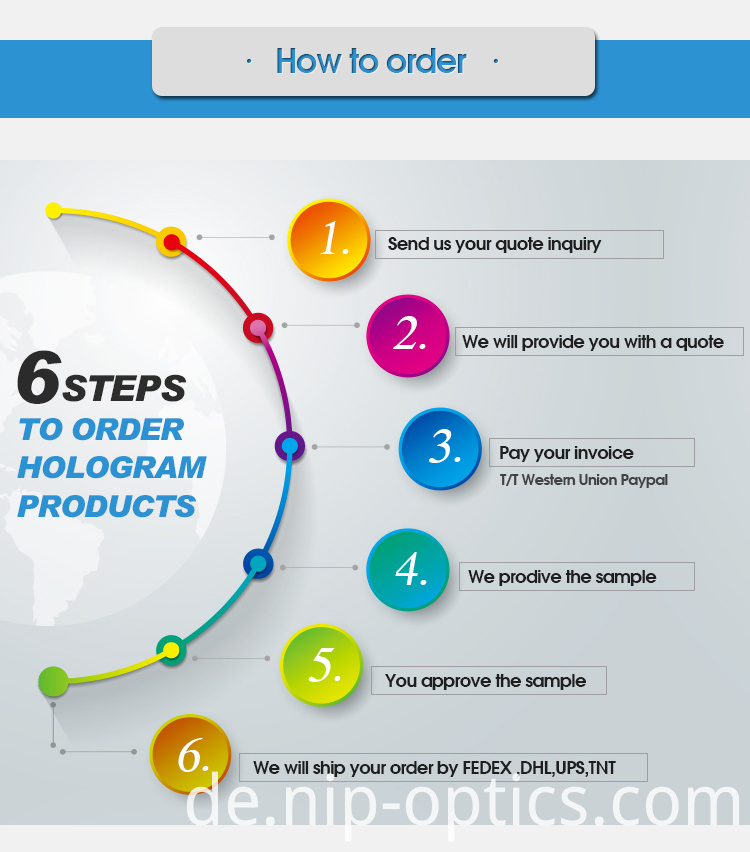 Häufig gestellte Fragen
1. was Ihr Hologramm Aufkleber Material ist?
In der Regel verwenden wir PET-Material mit 25 oder 30 Mikron dicke, andere Dicke wie 15, 20, 50 µm sind ebenfalls verfügbar.
2. machen Sie tamper evident Hologramm?
Ja, machen wir es wie leere, Waben oder Kunden-Logo.
3. für holografische Aufkleber, jede Form, jede Farbe, können Sie für mich tun?
Bieten wir natürlich individuelle Hologramm-Aufkleber. Runde, ovale, quadratische, sind beide in Ordnung. Transparent, Silber, gold, etc.
4. können Sie mir Beispiele Hologramm?
Proben sind vorhanden, schicken wir es kostenlos mit Fracht sammeln.
5. nutze ich das allgemeine Muster mit meinem Logodruck?
Ja, können wir Ihr Logo auf Hintergrund unsere generischen Musters, wie echt, Sicherheit usw. drucken. Sie können auch hinzufügen, Seriennummer, Barcode, QR-Code, etc.
Desto mehr Details schauen Sie sich unsere offizielle Webseite: http://www.gzlaser-online.cn/ oder http://www.nip-optics.com . 
Produktgruppe : Hologramm-Aufkleber > 3D Hologramm-Aufkleber